If you flick on an NBA game today, you'll probably notice that a large number of the players on the floor are wearing compression tights. They are becoming increasingly popular every year, but with so much demand there is invariably an overwhelming amount of choice on the market. This review will provide you with useful information around the best compression tights for basketball, as well as what to look for as you hunt for the pair of compression pants that will elevate your game above the rim.
Reviews of the 5 Best Compression Tights for Basketball, Plus the 2 Worst to Avoid
1.) Skins Men's A400 Compression Long Tights
Skins Men's A400 Compression Long Tights Review: Skins have for a long time been a leader in compression gear, and the A400 compression tights are one of their best products. Made out of 76% nylon and 24% elastane, these are some of the best compression tights for basketball that you'll find. The dynamic gradient compression ensures more blood gets to your working muscles, providing greater strength and durability. Adaptive HEIQ technology manages moisture and temperature, keeping you as comfortable as possible. On top of that, these tights are comfortable, chafe resistant, and will last you a long, long time. They are designed by a brand with a whole lot of knowledge and experience, and it shows. The Skins A400 are so cleverly designed that they can actively improve your game, making them the best compression pants for basketball.
2.) Under Armour Men's HeatGearArmour Mid Compression Shorts
Under Armour Men's HeatGearArmour Mid Compression Shorts Review: UnderArmour have risen to become Nike's biggest challenger in the sports apparel industry, and there's a reason for it. These compression shorts are just one example of this. The fabric is light and breathable, meaning you won't feel restricted in any way while wearing them. The 56% nylon, 40% polyester, 4% elastane fabric helps to wick away moisture, meaning you won't have to feel with unwanted sweat, while the anti-odor technology ensures these won't stink out your basketball gym bag! Being an UnderArmour product, they are inevitably a good quality product, and will last you for plenty of games and practice sessions. They are also a little less expensive than some similar products, despite the name associated with them. Overall, these are the best Under Armour compression tights for basketball.
Nike Men's Pro Hypercool Review: The best brand in the business has come through with this pair of compression tights. With basketball being such a high-octane sport, it's inevitable that you get pretty hot out on the court, but these tights will solve that problem. They'll keep you cool and keep the sweat away from you, ensuring you'll be as comfortable as possible while you're drilling 3's over your opponent. With compression zones placed strategically across the tight, these feel great and provide terrific support during tough games. Being a Nike product, they are, of course, very durable, and will last for an extremely long time. The signature Nike swoosh around the ankle is an added bonus, and will let your opponents know that you mean business. These are the best Nike compression tights for basketball that you'll find, and that's saying something.
4.) McDavid 748X Teflx Compression Basketball Pants
McDavid 748X Teflx Compression Basketball Pants Review: McDavid might not have the reputation of some of the above brands, but they do create some great basketball accessories, and their compression pants are one of them. These are lightweight and breathable, ensuring you'll feel comfortable out on the floor with them on, and also keep your legs dry. Perhaps most importantly, they keep your muscles stable and warm, meaning you'll be able to perform to a higher standard while wearing these tights. An added feature of these pants is the padding on the knees, which mean that when you dive for a loose ball you won't be tearing skin off your knees. They are as durable as any similar products, and are the best McDavid compression tights for basketball, meaning they are definitely worth a try.
5.) 2XU Men's Elite MCS Compression Shorts
2XU Men's Elite MCS Compression Shorts Review: Even against competition like Nike and Under Armour, 2XU are arguably the best provider of compression gear in the world, so they need a product on this list. The MCS in the name of these shorts stands for Muscle Containment Stamping, which effectively refers to the protection and support of major muscle groups that these shorts provide. As a result of this, the strain on your legs will be minimized, as will the discomfort at the end of a long, hard game. These shorts help to improve blood flow around the body, ensuring your muscles will repair quicker – you could play seven games a week wearing these shorts if you wanted! They are comfortable, protect against chafing, and support your legs. These shorts are a great product, and are definitely worth trying out.
Avoid – EU Men's Running Compression Pants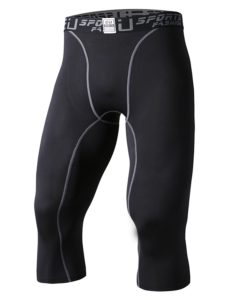 EU Men's Running Compression Pants Review: These pants won't break your bank, which is at least one redeeming feature, but they aren't very good quality. A number of users complained about poor sizing, which can be a major problem with this kind of product. If they are too tight they can feel restrictive out on the floor, while pants that are too loose can move around and be equally uncomfortable. On top of that, other users complained that some of the stitching was coming apart and needed to be fixed. Many people may be attracted to this product because of its low price, but the result is that they simply won't last very long, and won't perform much of a role while you do have them. This is definitely a pair of compression pants to avoid.
Avoid – Red Plume Men's Compression Pants
Red Plume Men's Compression Pants Review: These are another relatively cheap pair of compression pants, but you're better off either finding better value elsewhere, or just forking out a little more for a better product. To start with, these are available only with a very colorful pattern, which might look a little bit unusual underneath your basketball shorts. They also tend to run very small and are too tight, which can restrict your movement and have an impact on your ability to run rings around your opponent. There are a few redeeming features, but the market for compression pants is full of good products, and these are some of the worst compression pants around. Best avoid them, and opt for something of a little higher quality.
---
---
2020 Buyers Guide to the Best Compression Tights for Basketball:
With so many choices available to you, it can sometimes be hard to really narrow down your search for the best compression pants for basketball. There are, however, a few key factors to look out for, which can help to do so. These are the three most important factors you need to consider during your hunt to ensure you get what you're looking for.
3 Main Points to Consider:
Comfort: Essentially, the reason you'll be buying compression shorts is to help you feel more comfortable out on the floor. As a result, it's important not to forget this factor in your search. Many people get caught up in the language a lot of brands use while advertising their products, with phrases like 'innovative technology' making it easy to forget the more simple things like comfort. Compression tights can have all the technology and gadgets in the world, but if they don't feel comfortable on you then they're going to be detrimental to your basketball. Many of these products can feel too tight, which can cause you to focus on the discomfort they're giving you rather than draining 3's. In contrast they can be too loose, and feel like you're wearing a pair of baggy pants during the game. None of this is going to help your game, so make sure you are sure you're getting a comfortable pair of compression pants before you buy. Additionally, finding a pair of the best compression shorts for basketball will ensure additional comfort under your favorite bball shorts.
Length: Compression tights can come in a variety of lengths, so make sure you know what you want before you begin your search. Lots of players opt to wear compression shorts, which will hardly even show from beneath your basketball shorts. These obviously provide no benefit to your lower leg muscles, but many people prefer the feel of them. Mid-length compression tights come down to around halfway down your lower leg, and are a good option for people who prefer elements of the long and short compression tights. The longer ones will go all the way down to your ankle, and provide great benefits for your entire leg. Each of these lengths have their pro's and con's, and it's down to the individual as to which length is best suited to them.
Durability: This is going to be relatively closely correlated to price, with the more expensive compression tights generally given you a much longer period of use. Some of the worst compression tights will not last for a long time at all, and you'll see the stitching begin to come apart after just a few uses. This is obviously far from ideal; it will be uncomfortable and itchy while you play, and will eventually require you to buy a new pair soon after you bought the first pair. It's sometimes difficult to know which tights are durable and which aren't, so the best way to do it is to read as many reviews as you can to find out what the experiences of other uses were.
What NBA players are most famous for wearing compression pants and tights?
Which of them don't!? It's becoming increasingly common in the NBA for players to wear compression tights, and it isn't unusual to see a majority of players out on the floor wearing compression pants. Steph Curry's white compression pants can always be seen extending down from his white Warriors shorts, while Anthony Davis also wears them whenever he hits the floor. Kevin Durant is another who won't be found on the floor without his trusty black or white compression pants, while his teammate Draymond Green is the same. Another is Dwyane Wade, who seems to be one of the oldest members of the compression tights club. There are plenty more, and it seems like every year the number of players who don't wear them is significantly reduced.
---
How Compression Pants Work And Why They Are So Popular (Video Explanation):
---
Final Thoughts on Finding the Best Compression Pants for Basketball:
Compression tights are becoming increasingly popular, and it seems inevitable that one day everybody will be wearing them on a basketball court. The amount of choice on offer can sometimes make it hard to choose the right pair for you, and this article has helped make it a little easier. The information above will help you determine what you need to consider before making your purchase, as well as which compression tights are the best on the market.

{{Privy:Embed campaign=281497}}